I am loving this fall weather. I did not complain when I pulled out my sweaters from the last year. Today, I am drinking pumpkin spice flavored coffee in a long sleeved black turtle-neck and loving life. I have even been shopping for Christmas gifts and decorations. Am I getting ahead of myself? Maybe a little bit. I went through my winter sweaters from last season and decided that I need more. I just ordered a few from Mango and Ann Taylor. I am really tired of not having quality sweaters and cardigans. I hate it when you put it through the wash and the sweater comes out with pulls and fuzzies. I am saying no to the fuzzies. I trust both of these brands to have quality, warm knits. The sweater I am wearing today is from target last season. It is a sweater/cape that is so fun and festive!
This season you still can't go wrong by wearing a sweater/cape. Here are a few reasons why:
The styles this season are adorable.
They are so comfy!
The layered look provides more options for making the same outfit look different. This really helps when you have to pack light for travel.
Let's not get too far ahead. Before Christmas we have Thanksgiving. Turkey Day is coming and we want you to look adorable in your sweater. You might be driving home, seeing old friends, eating lots of food and meeting your boyfriend's family for the first time. We suggest a sweatery cape or a warm cardigan like what Ava is wearing. Here are a few of our favorites for this season. You are going to love these!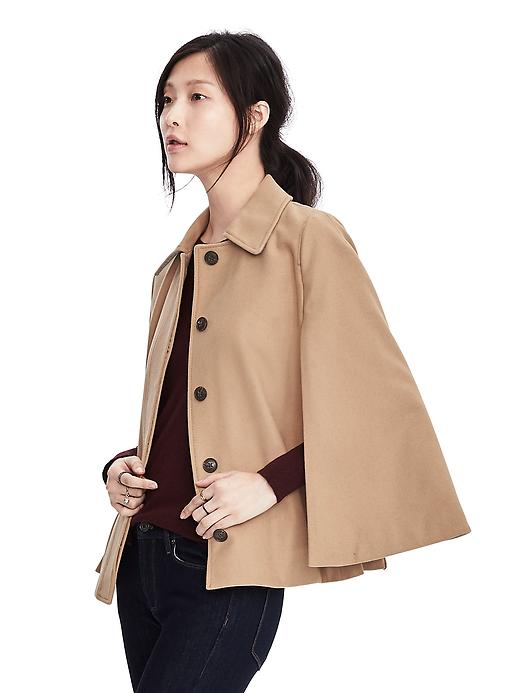 Banana Republic Womens Melton Wool Cape Size M/L – Camel


MANGO Contrast Trims Cape


"Wool-Cashmere Blanket Cape"


Ann Taylor Reversible Cape


Ann Taylor Shawl Collar Cape


Hooded Asymmetric Stripe Single Button Cape
Subscribe To Our Newsletter
Join our mailing list to receive the latest news and updates from our team.